Join my friends and I as we spend 5 days together, exploring a variety of topics all related to mothering and homemaking!
Welcome back to 5 Days with Whole Wheat Flour! So far we've discussed the different types of wheat available, and why you should choose whole wheat (for the most part) over white flour. Today, we're going to discuss the benefits of grinding your own wheat.
Say what? Yes, grinding your own wheat. No, not by hand. (Heavens, that would take forever!) Not even with a stone.
These days, you can purchase appliances that will speedily grind your wheat (and any other grain or seed) for you so that you can have the freshest possible flour in a minute or less.
Why? Why would you want to invest in such a tool? I know that I don't part with my (husband's) hard-earned money easily, and I suspect you don't either. Allow me to convince you of the necessity of such a tool, and encourage  you to save up for one if you don't have ready money for it.
The reason why whole wheat should be freshly ground if at all possible is the same reason why we avoid certain oils: rancidity. Polyunsaturated fats easily turn rancid simply by exposure to heat, light, or air, making them very unstable. Oils made from these fats are full of free radicals, which become the source of a large number of diseases in the body.
The oil in wheat comes from the germ. Here's the picture from yesterday so you can see what it looks like: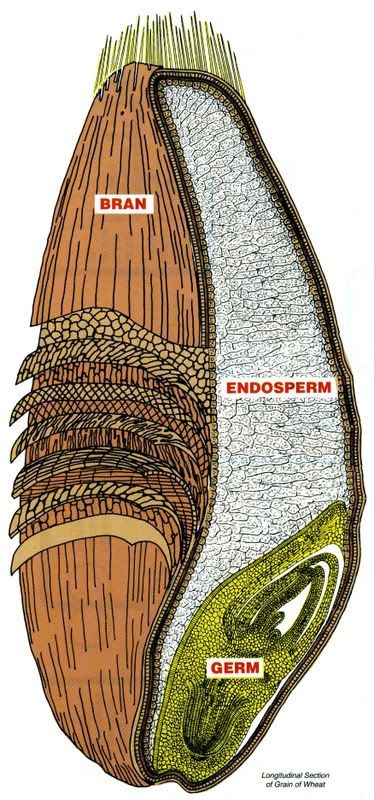 Storebought whole wheat flour might not contain all the oils and the germ in its entirety, but even so, it does go rancid much more quickly than white flour. This is a good thing. Living food will go bad much more quickly than dead or dying food. The trick is to consume it before it turns rancid so that you can get the benefit of all its nutrients without the risk of free radicals.
In the case of certain oils (most vegetable oils), this is nigh unto impossible, which is why many experts recommend avoiding such oils. (The Good Fat Cookbook by Fran McCullough explains this in great detail.) But thankfully, with whole wheat, there is a way to easily acquire fresh whole wheat flour without worrying about rancidity and free radicals.
The answer is to grind it yourself. When you grind your own whole wheat, you can be sure it is as fresh as possible. The bran (the outer covering of the wheatberry) protects the inside contents of the grain so that it can stay fresh for years. It's only when the bran is crushed (or milled) that the germ is exposed to light and air and begins to rancidize.
If you're still not convinced, consider the "rat study" mentioned by Katie of Kitchen Stewardship (who, as I mentioned yesterday, has extensively studied this topic of wheat, and has a lot of great information on her blog) in her post about the nutrition of freshly ground wheat. In the study, rats were fed a variety of types of wheat; some freshly ground, some 15-day old ground flour, and some store-bought white flour. Within 4 generations, the rats fed the old flour and the white flour had become completely infertile. Four generations of rats is the equivalent of 100 human years… Americans have been eating white flour for about 130 years, and what has become a widespread problem? Infertility. I think it is no coincidence!
So whether you sprout it or soak it or not, clearly the healthiest wheat is the freshest wheat. Many experts suggest that freshly ground whole wheat can be refrigerated or frozen and used within 2-4 months. I say better safe than sorry. Grinding wheat in the appropriate equipment takes less than a minute, so it's easy enough to grind your wheat right before you need to use it. If you have extras, you can store it in the freezer to use a tablespoon at a time as a thickener or sourdough feeder. But generally speaking, it's best to use the flour you grind right away.
I have no experience with grain mills, so I will direct you Kelli at Lady of the Barn, who is also participating in the 5 Day series, and presented the results of her extensive research on grain mills earlier this week. She will direct you to the best grain mills for your purpose.
What I do have experience with is my Vitamix! With a Vitamix dry blade, you can grind wheat berries in a minute! It's so easy to use, and I love that it's a multi-purpose appliance. Aside from my yogurt machine, my rule for the kitchen is that all of my appliances must be multi-taskers, and the Vitamix certainly is that. I use it at least once a day, and for all kinds of things: smoothies, coconut milk, rice milk, brown rice flour, milk shakes, ice cream, etc. etc. But I especially love to use it for grinding fresh flour.
And whaddyaknow, I actually made you a video about it! This is my first ever vlog, can you believe it? I've been blogging for how long, and this is my first vlog? Crazy! And for you non-video-watchers (because I confess, I am one), I've written out my flour grinding method below the video. Enjoy!
My Flour-Grinding Vitamix Method
Store the wheat berries in the freezer. Grinding in the Vitamix generates a lot of heat, which can damage some of the vitamins, and it also means you have to give the flour some time to cool down before using it. If you freeze your berries first, that will help with both issues. I can use flour ground from frozen berries right away.
Only grind grains in the Dry Blade, which must be bought separately.
Grind one cup at a time. The Vitamix manual says you can grind up to two cups at a time, but I find that it grinds better when I only do one cup at a time.
Turn the variable speed to "ten", then the switch to High. Grind for one minute (set a timer if you need to).
Sift the flour through a mesh strainer before using.
That's all there is to it! To clean it, you can fill the container half way with water and a drop of dish soap, and blend it on high for about 30 seconds, then rinse. When there's just dry dust from grains, Isimply give it a good rinse and let it dry.
Purchasing a Vitamix with a dry blade costs about $600, plus shipping. Gulp. I know! El Cheapo here can't even think about that cost without shuddering! But you have a few options:
Consider a reconditioned machine. They cost about a $100 less, and come with a 5-year warranty.
Purchase it at Costco. Periodically Costco will have a Vitamix show where a vendor will come to demonstrate the product, and it's usually cheaper then.
Save up! That's what I did. I saved my spare pennies until I could afford one.
Follow Granola Mom 4 God's example and put it on your wish list. Ask everyone to contribute what they would spend on your birthday or Christmas present to your Vitamix fund instead.
And if you think a Vitamix is still not worth it, I strongly urge you to think again. I normally don't pay anymore for anything than I have to, and I'm famous for buying the cheapest thing possible. But can I tell you how many blenders and food processors I burned through before I finally threw up my hands in defeat and declared I wouldn't purchase another one until I purchased a Vitamix!? I wasted probably several hundred dollars anyway on machine that just didn't last. The Vitamix (a new one) comes with a 7-year warranty and usually lasts much, much longer than that.
Well. I seriously did not intend for this post to be such a Vitamix commercial, but I just got excited and a little carried away! Ahem. At any rate, I can assure you, Vitamix did not sponsor me in any way for this post, but I am a Vitamix affiliate. So if you click on my Vitamix links and make a purchase (yay, you!), then I will earn a small commission. The good news for you is that you also earn $25 in free shipping just for clicking my link, a win-win in my opinion! Or you can take my advice and wait until Vitamix comes to Costco for a better price. I totally understand, because that's exactly what I did. At any rate, I really think you need to go get yourself a Vitamix.
And grind some grain, baby!
Sharing at Frugal Days, Sustainable Ways, and Works for Me Wednesday