*Sponsored Post brought to you by Gift Card Rescue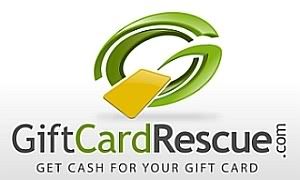 So, have you followed my advice and started saving up gift cards to spend at Christmas? I'll be honest – I haven't yet. Life has been kind of crazy and in upheaval from the beginning of this year, but now that things are starting to settle down – and I actually have a working budget written out to start in April – I'm definitely going to get started on this year's Christmas stash of gift cards.
Whether or not you choose to save money for Christmas in this way (although I honestly think it's a great way for anybody and everybody to pay for Christmas!), you will still like what I have to share with you today. Because whether or not you use gift cards to buy Christmas gifts, you're likely going to want to give away a gift card or two for Mother's Day, Father's Day, Teacher Appreciation Day, Admin Professionals Day,  birthdays, anniversaries, and just-because-I-love-you days.
And when you go to buy those gift cards, make Gift Card Rescue your first stop. Gift Card Rescue is a trade-in service for gift cards – if you have one you don't want, you trade it in for cash. They, in turn, sell it at a discount to someone who does want it. You don't have to trade in gift cards to get access to their collection of cards for sale, most of which are at least 5% off, some up to 30% off the cash value!
You know I'm always interested in saving money wherever I can, and this is a fabulous and simple way to do that: purchase a gift card at a discount, and you're automatically getting a sale price on whatever you buy with that card! 
And you can rest assured that the gift cards are legitimate and will work. I had the privilege of using a gift card to Payless from Gift Card Rescue, and bought myself some super cute black flats and a whole set of bangle bracelets. The magnetic strip on the card was worn, but the cashier just typed in the card's account number and it worked just as well. If for some reason your card does not work as advertised, Gift Card Rescue backs up their cards with a 90-day guarantee, and you can get a refund or be issued a new card to replace the defective one.
Chances are, though, your discounted gift card will work just fine, enabling you to buy gifts (for others… or for yourself!) for less, and, of course, save up for a debt-free Christmas!!
Find more inspiring and informative posts at Make Your Own Monday, Motivational Monday, Homestead Barn Hop, The Bulletin Board, Better Mom Monday, Natural Living Monday, Trivium Tuesday, Titus 2sday, Teach Me Tuesday, Hip Homeschool Hop, Titus 2 Tuesday, Delicious Dishes, Open Call Tuesday, Tiny Tip Tuesday, Healthy 2Day Wednesday, Frugal Days Sustainable Ways, Works For Me Wednesday, Real Food Wednesday, Whole Food Wednesday, Allergy-Free Wednesday, The Mommy Club, Encourage One Another, Thought Provoking Thursday, Simple Lives Thursday, Homemaking Link Up, Keep it Real Thursday, Frugal Thursday Rewind, Your Green Resource, Homeschooling on the Cheap, Thrifty Thursday, Fellowship Friday, Fight Back Friday, I'm Lovin' It, Weekend Bloggy Reading, Weekend Whatever, Snacktime Saturday