When browsing through blogs for my menu plan last week, I came across this ingenious idea over at Cooking Traditional Foods: Kerry Ann fried up some sliced apples dipped in pancake batter! Brilliant! I promptly added it to my menu plan and tried it the very next day.
Total success! The kids loved it, and gobbled them down like… well, like hotcakes. Which they kind of were. Except with apples inside.
Kerry Ann used her sourdough pancake batter, but I went with one of my tried and true allergen-free pancake recipes, and it still worked perfectly. This particular recipe can be made with or without the allergenic ingredients – I'll include both options in the recipe below. However, there is one key ingredient that might be unusual to you, and that is oat flour. 
Oat flour is simply ground oats. All you have to do is run regular old-fashioned oats through your coffee grinder or food processor until fine, and you have oat flour. You can purchase already ground oat flour, of course, but it's kind of expensive. Much cheaper just to grind your own. It gives a nice hearty texture and flavor to the pancakes that goes perfectly with the apples.
Pancake Apples
Summary: adapted from Cooking Traditional Foods
Ingredients
3 small apples (I used Gala)
1 1/2 cups oat flour
1 TBSP unrefined sugar or honey
1 tsp baking powder
1/2 tsp baking soda
1/4 tsp salt
1 tsp cinnamon
1 cup milk or non-dairy milk
1 TBSP any oil
1 tsp vanilla extract
1 egg (or 1 TBSP ground flax seed mixed with 3 TBSP hot water)
Instructions
To make the pancake batter, whisk the dry ingredients together in a medium bowl. In a separate bowl (I like to use a 2-cup glass measuring cup), stir together the liquid ingredients. Add the liquid ingredients to the dry and stir just until blended. Set aside.
Wash each apple, and core them. Slice them into 1/8″ slices.
Heat a lightly greased griddle (I use palm shortening or bacon grease, you can also use butter) over medium heat. Dip each apple slice into the batter and then place on the pan. Cook just like pancakes.
Serve with a dusting of raw sugar and/or cinnamon.
Almost as
QUICK
as regular pancakes, but so fun, definitely worth the extra couple minutes.
So EASY, too, and your kids will love it!
Apples are pretty CHEAP, as are pancakes.
Adding the apples to the pancakes adds a little extra nutrition, making them a delicious and HEALTHY breakfast.
Sharing at Tastetastic Thursday, and…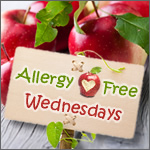 Find more inspiring and informative posts at Make Your Own Monday, Motivational Monday, Homestead Barn Hop, The Bulletin Board, Better Mom Monday, Natural Living Monday, Trivium Tuesday, Titus 2sday, Teach Me Tuesday, Hip Homeschool Hop, Titus 2 Tuesday, Delicious Dishes, Open Call Tuesday, Tiny Tip Tuesday, Healthy 2Day Wednesday, Frugal Days Sustainable Ways, Works For Me Wednesday, Real Food Wednesday, Whole Food Wednesday, Allergy-Free Wednesday, The Mommy Club, Encourage One Another, Thought Provoking Thursday, Simple Lives Thursday, Homemaking Link Up, Keep it Real Thursday, Frugal Thursday Rewind, Your Green Resource, Homeschooling on the Cheap, Thrifty Thursday, Fellowship Friday, Fight Back Friday, I'm Lovin' It, Weekend Bloggy Reading, Weekend Whatever, Snacktime Saturday