Have you been touched by cancer? Maybe not you personally, but a close friend or family member? Then this series is for you. In honor of a dear friend of mine who was diagnosed with colon cancer earlier this year, I dedicate this small space of the internet to spreading hope and compassion in the face of a terrible disease. Hope for prevention and treatment, and compassion for those suffering. Please share the posts in this series with anyone you know who has been touched by cancer.
Cancer. It is a word that brings fear to the depths of your soul…especially when it is being experienced by you or a loved one. I know this fear that can grip you. We have experienced cancer in our own family several times. My family has always approached it differently than most and sought natural help for cancer and chemo side effects.
I am always happy to share with others information that may help them on this new and frightening journey, but am careful not to overstep any boundaries. You have to know someone well and sense if they are open to your suggestions. If you put the information out there and they want to know more, they will ask. If not, they have made the decision that they believe is best for their family.
I was 13 years old when my mom told me she had breast cancer. I had no idea at the time how bad it was and how close I came to losing her. She had stage 4 breast cancer. The doctors gave her 6 months with chemo and radiation.My parents had always sought out alternative practitioners when possible. This was no exception. So, they went to Mexico for treatment. This was before all the options there are in America now. She did have surgery and a little chemo, because her cancer was so bad that even the natural doctors recommended it… on a smaller scale. Thankfully, her side effects from chemo were not as bad as most people experienced.
I am very thankful that I still have my mother with me…24 years later. My brother recently experienced thyroid cancer and beat it naturally.
Hopefully you will find some things to help through cancer, chemo and radiation. Although I believe that cancer is largely preventable, many people still choose the conventional route for numerous reasons. Conventional treatments usually overload the system with many toxins.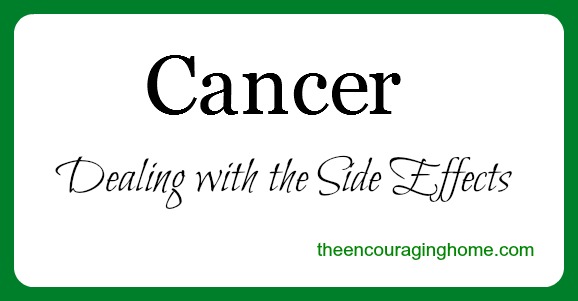 To help the body deal with the side effects of these toxins, there are things that can be done to help detox and relieve the side effects of cancer treatments:
Water ~ Drink lots pure water. This is the most natural way to flush out toxins. Add fresh lemon or a pure, therapeutic grade Lemon Essential Oil to boost the immune system and stimulate the lymphatic system. Other beneficial essential oils are Grapefruit, Tangerine and Orange. Add 1-2 drops to water during the day. These oils are high in limonene and effective against cancer and help to boost the immune system. Peppermint Oil will give you energy and stimulate the immune system.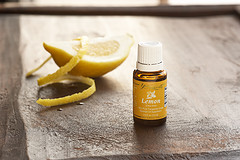 Detox Baths~ Epsom Salt baths are very beneficial. Toxins are flushed from your system as your body absorbs the magnesium it needs to help heal. Add baking soda to the bath to make your skin smooth, while neutralizing the effects of radiation. Apple Cider Vinegar added to the bath helps soothe sore muscles and joints. Add Lavender Oil to help you relax. Rotate with a Bentonite Clay Baths using Living Clay to help pull out toxins and heavy metals.
Boost the Immune System~ All of these things in this post will help boost the immune system, which is crucial to healing. A supplement that can help is Inner Defense~ an oil blend of Clove, Cinnamon, Lemon, Eucalyptus, Rosemary, Oregano, Thyme, and Citronella in an Olive Oil Base in capsules. Frankincense Essential Oil is also very beneficial to boost the immune system, calm the nerves and may kill cancer cells. It can be taken internally, rubbed on the feet and problem area. *NOTE~ the only oils that I am referring to are Young Living Essential Oils due to their pure, therapeutic quality.*

Alkalize the Body~ A person who is going through cancer, chemo, or radiation has a very acidic system, which makes the body even more susceptible to disease.
Eliminate Sugar & Processed Foods~ Sugar feeds cancer. Stay away from artificial sweeteners also. Use Stevia, an herb, to sweeten drinks or food. Avoid white flour and food coloring. Our bodies do not know how to deal with these chemicals.
Eat Raw Foods~ Avoid meat during this time, especially red meat. Eat lots of green vegetables~ have a salad with every meal and use a lemon/olive oil dressing.
Drink Green Juice or a High Quality Green Nutritional Drink~ It is important to feed the body what it needs as it is fighting cancer and dealing with side effects. Juicing is the best way to help the body heal and get rid of toxins. The "greens" are so beneficial~ spinach, kale, parsley and cucumbers. Add in ginger and carrots. It is not always possible to make high quality juices, nor does the person feel like the effort involved. My brother used Nutritional Dreams three times per day. It is a green superfood drink that you mix with water. It is flavored with stevia and peppermint, so it is yummy. It is a normal part of our routine to keep us healthy year round.
Ningxia Red~ an antioxidant drink that helps reduce the acid in the body. Helps with heart and liver function as it energizes and fortifies the body.
Ginger ~ Ginger helps nausea and vomiting. Put it in a smoothie or make a tea from it.
Stop Using Synthetic Personal and Cleaning Products~ Our skin is the largest organ. When we put chemicals on our skin that we would not eat, we are adding to the toxic overload in our body. Avoiding using antiperspirants. These contain aluminum and is very damaging to our body. Try to find a natural deodorant or use coconut oil and lavender oil.
Exercise~ Although one may not feel like exercising. It is very important to help cleanse the lymphatic system. T-Tapp is a 15 minute fitness routine originally designed by Teresa Tapp to help cancer patients deal with the effects of chemo. Her mother died of a brain tumor and she had a desire to find a way to help people. It was discovered that is was helping heal from the inside out. It cleanses the lymphatic system, boosts the immune system and gets oxygen flowing through the body. Inch loss is a plus! The lymph system has to have help to cleanse itself…ie T-Tapp, rebounding and body brushing as recommended through T-Tapp. T-Tapp is now used by all ages and health situations, not just cancer and chemo patients.

Emotional Health~ The emotions play a huge role in our healing. A person experiencing cancer is on an emotional roller coaster. Fear, dread, anger, sadness, worry, guilt all play a part of this roller coaster. Our thoughts can be as toxic as pollutants or the cancer itself. It is important to take every thought captive and not be controlled by them. Prayer, reading scripture, meditating on worship music are the most important helps in this. A book I highly recommend is Who Switched Off My Brain? by Dr. Carolyn Leaf. It is full of helpful tips and scripture to learn how to deal with emotions and thoughts. Essential Oils that are helpful in this area are: Valor, Peace & Calming, Joy, Harmony, White Angelica, Acceptance, Forgiveness, Hope.
Get Plenty of Rest & Accept Help~ Two things that are very hard to do. Rest when you need it. This is very important for your body to heal. Accept help, even though it may be hard to do. Now is the time to focus on your health and getting better. If people offer to bring meals, help with the children, clean your house….let them. Accept the gift.
I hope that these suggestions will help you or someone you know in this journey of cancer. Start with one or two things and add to them as you can. Any step you take toward your healing is better than nothing.
Disclaimer: This isn't intended to diagnose, treat or cure any condition. This is for educational purposes only. Consult with your doctor.

Mary is a farm girl and homeschooling mom to 2 sons. She has been married to her sweetheart for 14 years. She is passionate about her faith and family and strives to find balance in home life, farm life, homeschooling, and healthy living. She blogs at
The Encouraging Home
where she tries to encourage others and offer a variety of resources for life. She also helps to educate people on the health benefits of pure essential oils through her Young Living Essential Oils business, beautiful skin through Nerium AD, as well as help other moms establish a home business. Mary hopes that you will find a place of renewal and refreshment when you visit her blog, as well as many help from the many resources she has researched for you.